Belly Dance Dreams Midwest

Casandra of Belly Dance Dreams Midwest is available to entertain at restaurants, theaters, weddings, corporate parties, festivals, birthday parties, bachelorette parties, children's parties, and other special events in Illinois.  For quotes or questions you can contact Casandra here:

email:  casandracorette@gmail.com

or message:  facebook.com/CasandraBellyDance 
Besides traditional belly dance, she is available to perform these folk dances: Egyptian Saidi (cane dance), Egyptian Beladi, Egyptian Shaabi, Raqs el Shamedan (Egyptian), Khaleegi (from the Gulf region), and Kawliya (Iraqi).  Please understand that folkloric dances require more prep time and should be booked far in advance.
*Base Performance Package for Private Parties: A 15-20 minute performance, crafted for your specific audience. Includes veil(s), finger cymbals, and 1 optional prop. 1 dancer $225+
*Add an extra 15 min set: Double your experience! An extra set with new costume & new music. Short break in-between. Veil(s) and finger cymbals. 1 extra prop included. 1 dancer $175
*Corporate Party Rates: Please Inquire
*Shimmy Party: A 10 minute performance plus a 30 min lesson. 1 dancer $300+
*Weddings: Wedding performance 15-30 min 1 dancer $400+, parties (excluding wedding day) $250, additional 15 min set $100-$150
*Classic American Cabaret Routine: 30-40 minutes, includes floor work. 1 dancer $350+
Props besides veil & finger cymbals include Fan Veil(s), Cane(s)/Stick, sword(s), Isis Wings, and Hand-Held Candles, Candle Tray, or Shamadan
** Casandra and Belly Dance Dreams does not entertain at private all-male bachelor parties, so please no inquiries.
** Currently only 1 dancer is available.
Here is some info from original Belly Dance Dreams in WA. Prices may differ, so see the above list or please contact Casandra for a quote: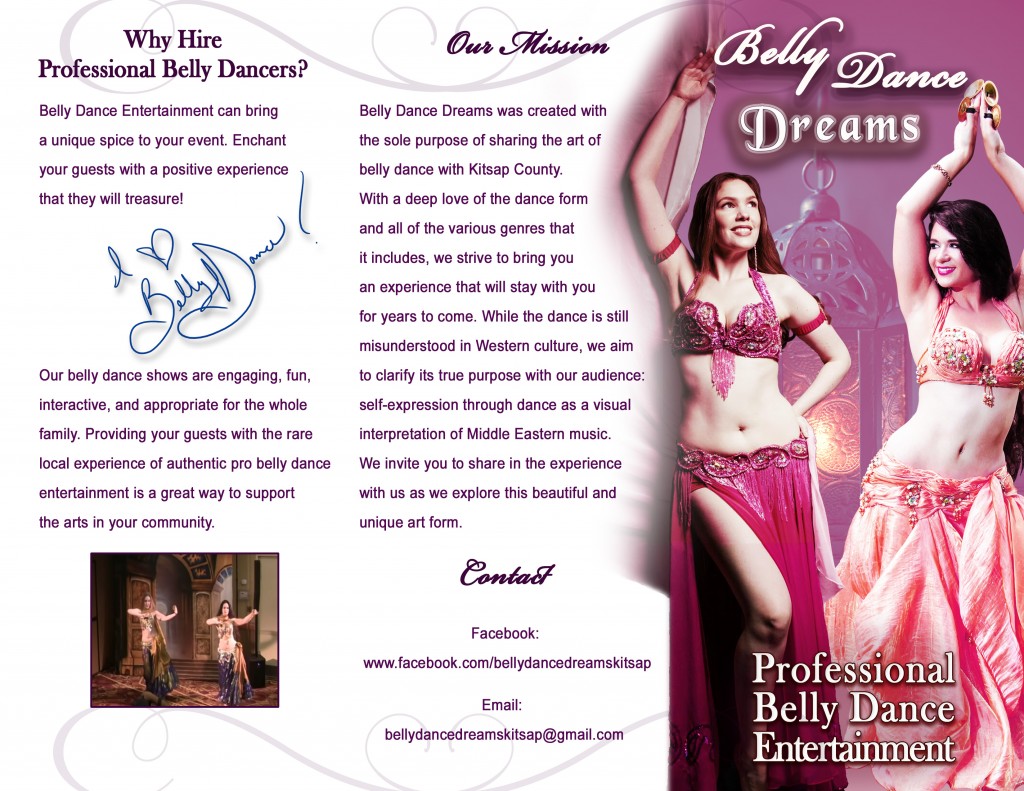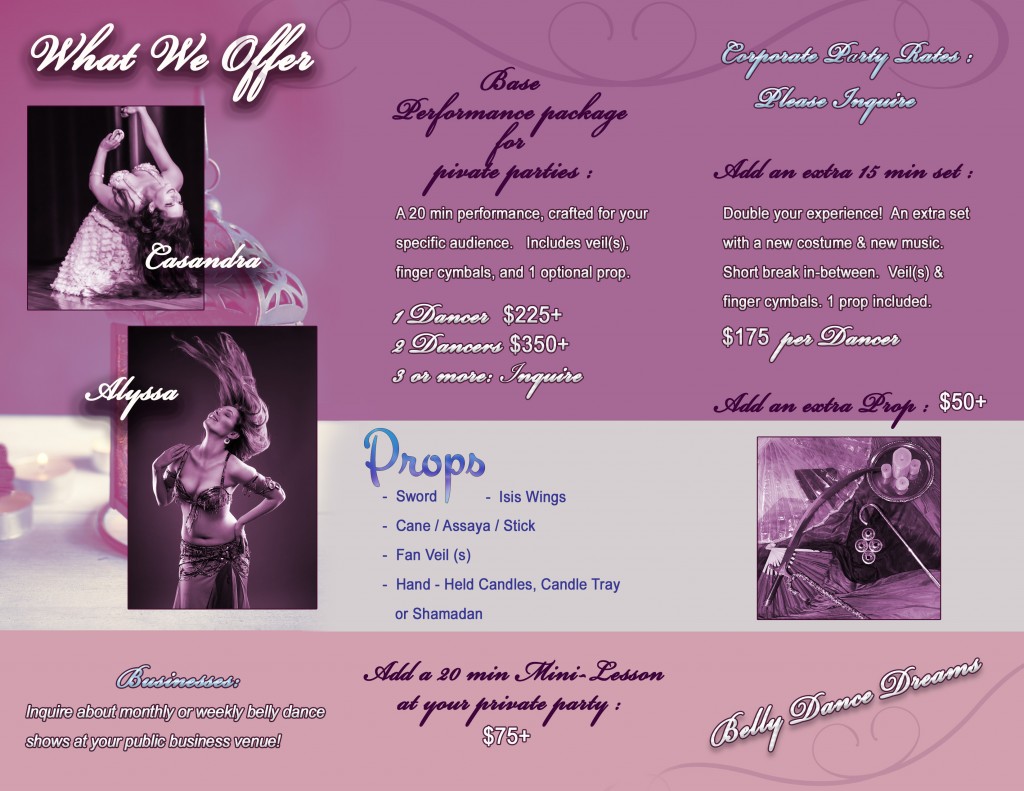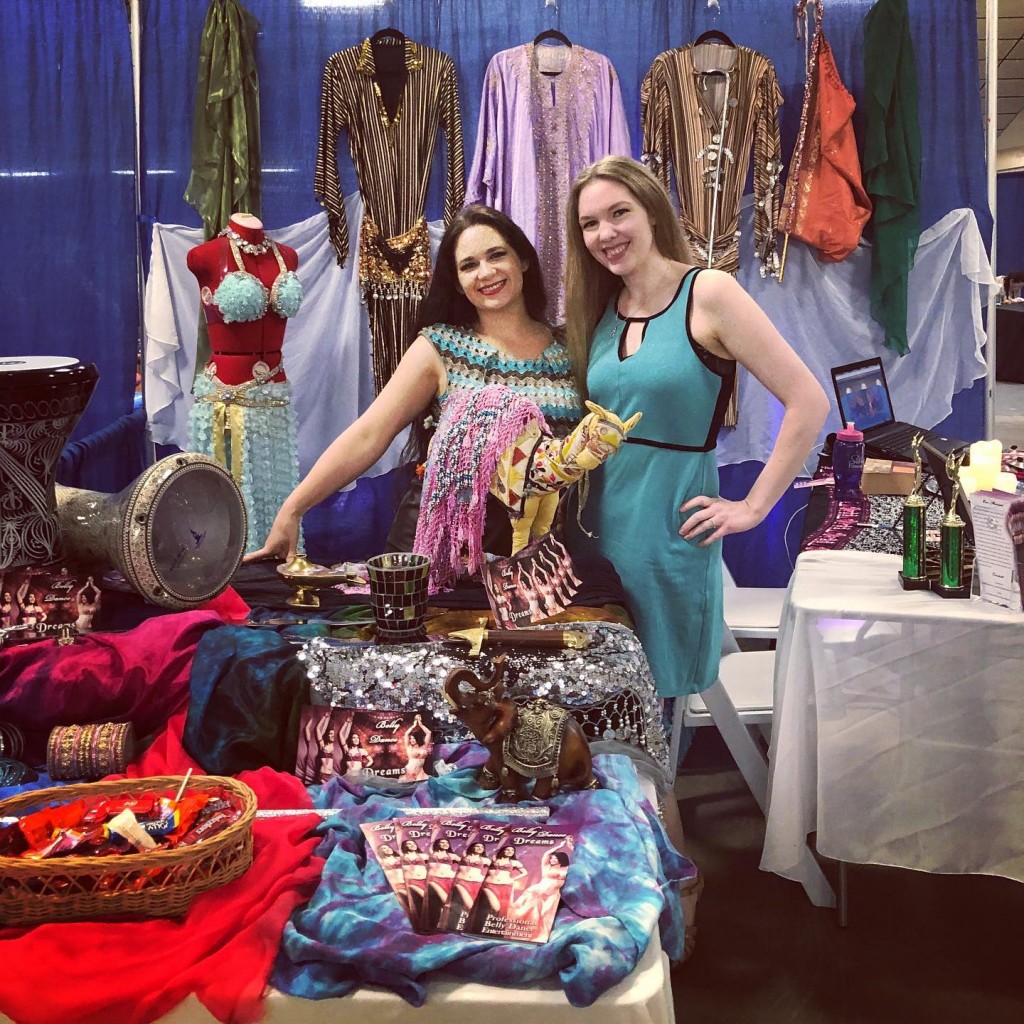 Belly Dance Dreams (Alyssa & Casandra) @ Kitsap Wedding Expo 2019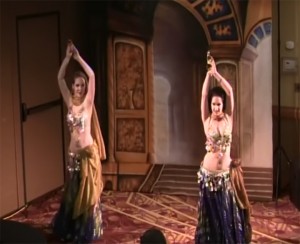 Alyssa & Casandra
La Danse Orientale Belly Dance Competition – 2nd place in Duets/Troupes category
————————————————

Casandra's Performance Videos
casandracorette@gmail.com   Send mail
Casandra Corette's Facebook Profile
Casandra Corette Belly Dance Facebook business page
(c) Jeanie Lewis