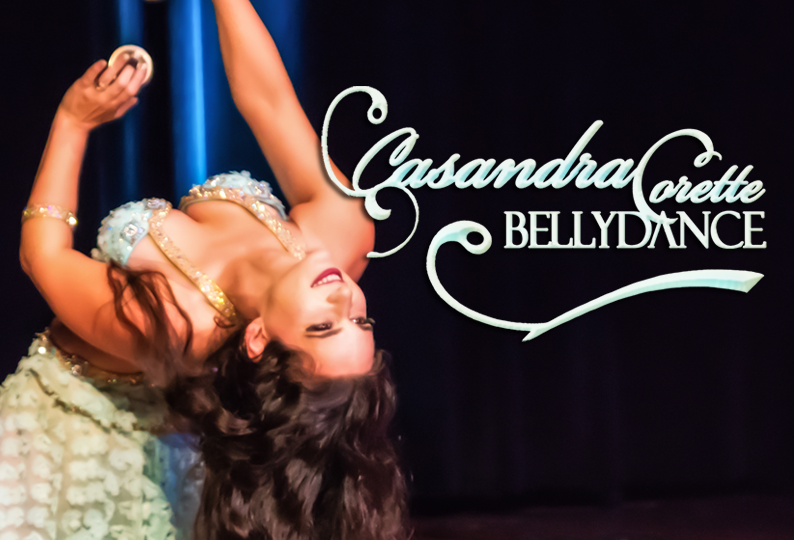 Belly Dance Instructor and Entertainer in Illinois
Casandra Corette is a solo belly dance artist and instructor currently residing in northern Illinois. Her dance styling is Modern American Cabaret with heavy traditional Egyptian influences.
.  RESTAURANTS AND REGULAR ENTERTAINMENT VENUES SEEKING TALENT CLICK HERE FOR RATES
.  BOOK CASANDRA FOR A PERFORMANCE
.
Education and Work Experience
.
Casandra has studied Middle Eastern Dance for over 10 years and has performed at various venues including restaurants, theaters, weddings, corporate parties, festivals, and birthday parties. She received her early dance education primarily from Hawaii's very popular belly dance artist Malia Delapenia, and is a former member of Malia's professional dance company Belly Dancers in Paradise. She has taken several live workshops from many famous belly dance performers and master teachers from various countries, including countries in the Middle East. She continues her education by studying with master instructors as they visit the Midwest.
Casandra entertained regularly at Kan Zaman Restaurant's two locations in Honolulu from 2014-2017, before her move to WA at the beginning of 2018.  She was a member of the non-profit organization Middle Eastern Dance Artists of Hawaii (MEDAH) and enjoyed working with the local dance community and entertaining the public.  Starting Jan 2018, she entertained monthly at Petra Bistro Mediterranean Restaurant in Seattle until mid 2019, and she entertained every couple of months at Harissa Mediterranean Cuisine in Seattle with a live band. She recently moved to the Midwest.
In 2019 Casandra partnered with Alyssa Jakum to create Belly Dance Dreams, an entertainment collaboration, with the intent of servicing the Kitsap area and raising local public awareness of the dance form. In September 2019, Belly Dance Dreams (Casandra & Alyssa) were awarded 2nd place for their performance in the Duets/Troupes category at the La Danse Orientale Belly Dance Competition in Renton, WA.
Before her dance career, Casandra obtained a Bachelor of Fine Arts degree focusing on character animation and illustration; becoming a Middle Eastern Dance Artist has been an extension of her never-ending study of performance art. She enjoys teaching belly dance to others and sharing her knowledge, respect, & joy for this important cultural art form.  She currently teaches in Wilmington, IL.
Casandra Corette's Facebook Profile
Casandra Corette Belly Dance Facebook Fan Page