Belly Dance Adult Classes with Casandra Corette 2020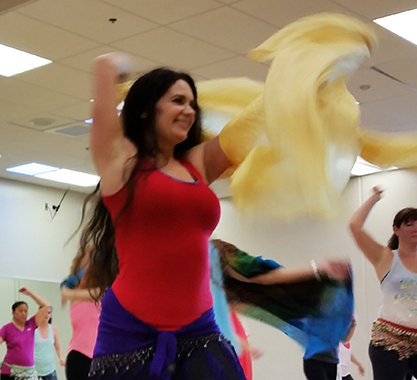 What to wear to classes: Comfortable stretchy clothing, like yoga pants and a sports bra. Showing the belly is not required. We like to dance with bare feet. ***Absolutely no regular street shoes allowed on studio floors in Bremerton, to protect the floors, and no food & drink except water in dance rooms***
Ages: 18+,   or responsible teen with parental permission
Every student will need to register and sign my online waiver before beginning classes.  http://casandracorette.com/student-waiver/
Online Classes  (Zoom)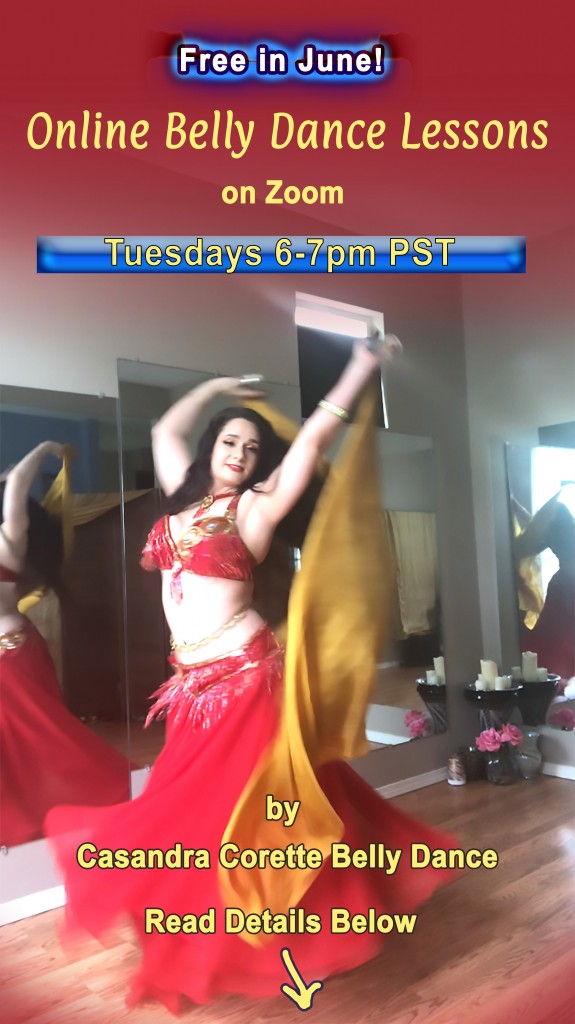 Online Classes

Every student will need to register and sign my online waiver any time before beginning classes.  http://casandracorette.com/student-waiver/     
$100/8 week session Oct/Nov – Technique Class : An online version of the technique in-studio class. Break-down of Casandra's belly dance moves; drills for strengthening, muscle memory & balance; exploring improv; and simple combinations to music from and inspired by the Middle East. Tue 6-7pm, 5:45 classroom opens. Please arrive early for soundcheck and announcements if possible.
REGISTRATION NOW CLOSED –  October/November 2020  8 week session Tue's 6-7pm,  Oct 6 – Nov 24  $100.00

No Refunds. Payment is irrevocable, non-refundable, and non-creditable.
—–More about Online technique class: Registration is pre-pay for the 2 month session, $100 total for 8 classes. No class on national holidays
⭐️ ***When live classes resume, any student currently signed up for live technique class may drop in to the online version of it for free.  If you have any questions feel free to contact me! 🙂
Live classes in Bremerton will resume as soon as it is safe.
———————————————————————
⭐️*** Students of my March 2020 live session that was interrupted (from pandemic) and did not ask for a refund: you are entitled to 3 free classes. THIS OFFER EXPIRES AFTER JULY. Before registering, please contact me via fb message or email casandracorette@gmail.com & let me know if you will be attending July's online classes.

I am also available for online private lessons via Zoom or Skype. Message or email me if interested. Online private lessons are $50/hr
In the future I might offer a choreography class, as well as special workshops about various topics like veil, finger cymbals, balancing, etc. if there is interest.
Please stay safe everyone!!! 💗💗💗
Online Etiquette & Safety
Thank you for signing the waiver .    I'll send an email to you a couple days before class begins, with the link and password to our zoom classroom.
*Please know that it's unlikely but possible for Zoom to be compromised/hacked. If this ever happens, I will log us off immediately & we'll go from there! 👍 I have no control over hackers unfortunately. By attending my zoom classes, you accept this possibility and assume the risk, and will not blame Casandra Corette Belly Dance.
Please dance in a room with a little space around you, if possible. Be aware of any objects that could fall, that you could bump into etc. Make sure you have good grip on the floor (barefoot is best when possible, slippery socks/rug not good). Pay special attention to your dance form/posture during class and practicing.
For online technique class, everyone please arrive a few minutes early and chat while I prepare audio settings. Once class begins I may mute everyone and ask you to use "speaker view" or pin my video feed.  I'll use "gallery view" so that I can see you all. There will be time in between drills for questions and feedback.
This class is online so there may be tech adjustments for us all; please bare with me as I figure out how to give you the best class experience in my capability. 💗 We had a free run-through in June and from feedback I upgraded my visual and audio equipment. For your end of the tech equation, quality can depend on your own equipment and internet connection, but I will try my best to make sure you're getting a good class. You can always message/text or email me as well.  casandracorette@gmail.com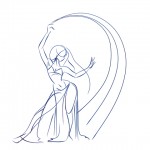 Belly Dance Technique Live 8 Week Sessions
To attend: Register online on this page,
or in person (contact me) in the month before session begins, $100 per session per person

What you can expect in on-going Belly Dance Technique 8 week sessions:
This is a pure dance class, focusing on learning the art of Middle Eastern Dance.
-In each class a warm up with gentle movements and light stretches, belly dance technique
breakdowns, drills, and combinations of movements to music from and inspired by the Middle East.
-Simultaneous instruction for all levels. More advanced dancers will be given appropriate tasks to work
on in class, i.e. layering.
-A new session will start every 2 months. In the event of a 5-week month, one week will be skipped on the schedule – always an 8 week/2 month session.
-No class on big Holidays.
These classes will be held on Mondays 7:30pm – 8:30pm in Bremerton @
Northwest School of Dance

5889 NW State Hwy 303
Bremerton, WA 98311-3745
Bldg 5889
Studio 3
 ***Registration for Live Technique Class currently CLOSED *** 



Due to our current circumstances surrounding coronavirus, live classes are canceled for the time being, for the health and safety of all. My apologies! I am eager to return to teaching and dancing live with you all once we are clear <3

In the mean time, please consider online classes and/or stay connected via social media to stay updated. 

www.facebook.com/CasandraBellyDance/
friend me on facebook

www.instagram.com/casandracorette/?hl=en
https://www.instagram.com/bellydancedreamskitsap/?hl=en


===========================================
Interested in learning Belly Dance?
Belly Dance, also known as Raqs Sharqi (Dance of the Orient in Arabic) or Oriental Dance, is of Middle Eastern and North African origin. It is still evolving in it's homelands. There are many styles and fusions of belly dance all over the world. Many belly dancers study folkloric dances that also originated in the same areas. What I often perform and teach is known as modern American Cabaret belly dance and is what you may have seen in restaurants in the US.
Learning this dance can be exhilarating! It's a wonderful way to better appreciate your body (and all it can do!) while having fun and exploring a cultural art.  Being low-impact, it is gentle on the body as well.
Some benefits of learning belly dance are: improved core strength, more muscle control, better balance, increased knowledge, and joyful feelings of expression!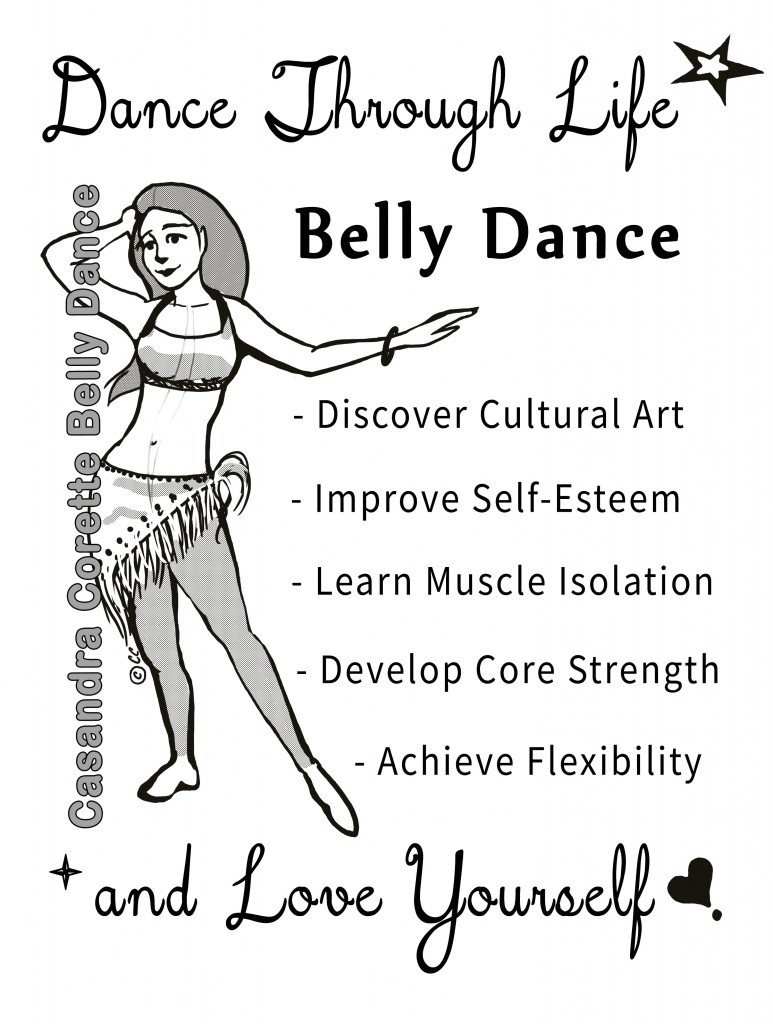 ————————————————————————————————————————————————————

Private Lessons are available as well
Private Lesson Rates
Live class –  $60/hr + studio fee if necessary (will book an available studio nearby)

Online class – $40/hr during pandemic

You may contact me to schedule a time and I'll get back to you, email or facebook is best

Private lesson may be split between no more than 3 students.
email: casandracorette@gmail.com
A mini private lesson is also available as part of a performance package, excellent for special celebrations, parties, girls night, bachelorette etc. Performance with Lesson package includes approx. 15 min performance and a short private lesson 30 min $300. If held at studio, additional $20 est. required for studio fee.
————————————————————————————————————————————————————–